WWALS - Water Trail Signs and Brochures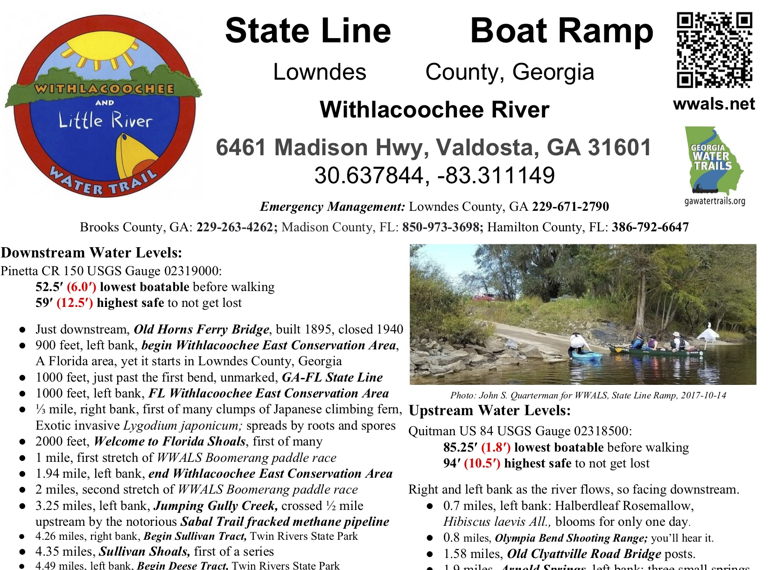 Help our water trails be safe, well documented places for family fun.
$4,045
raised by 3 people
$5,000 goal
Grant money nearly completes project
Update posted 3 years ago
Thanks to a grant from the Georgia Department of Natural Resources Educational Trails program, we have received *almost* enough money to complete the signs for this project.  The brochures have been printed and are now available. Just a bit more will help us reach our ultimate goal for this project. 
WWALS Watershed Coalition is actively raising money to pay for GA DOT approved road sign pairs (one in each direction) at each of the access points for the Alapaha River Water Trail and the Withlacoochee and Little Water Trail . 
There are a dozen access points to the rivers and each needs signage at the road and an information kiosk at the river. 
$300 places a set of signs in each direction at a boat ramp or launch
$150 places a set of signs in one direction.
$50 places an informational sign at the ramp or launch.
We are also preparing for the third printing of the Alapaha River Water Trail Brochure and the first printing of the Withlacoochee and Little River Water Trail Brochure.  These printings cost about ten cents per brochure, meaning that your $25.00 donation will print about 100 brochures. 
For a $500.00 donation, WWALS will place your name as a sponsor on the printed brochure.
Any money raised over our goal will be used for other water trail related projects, including kiosks and flyers.
Please give. Every little bit helps.  
Thank you.