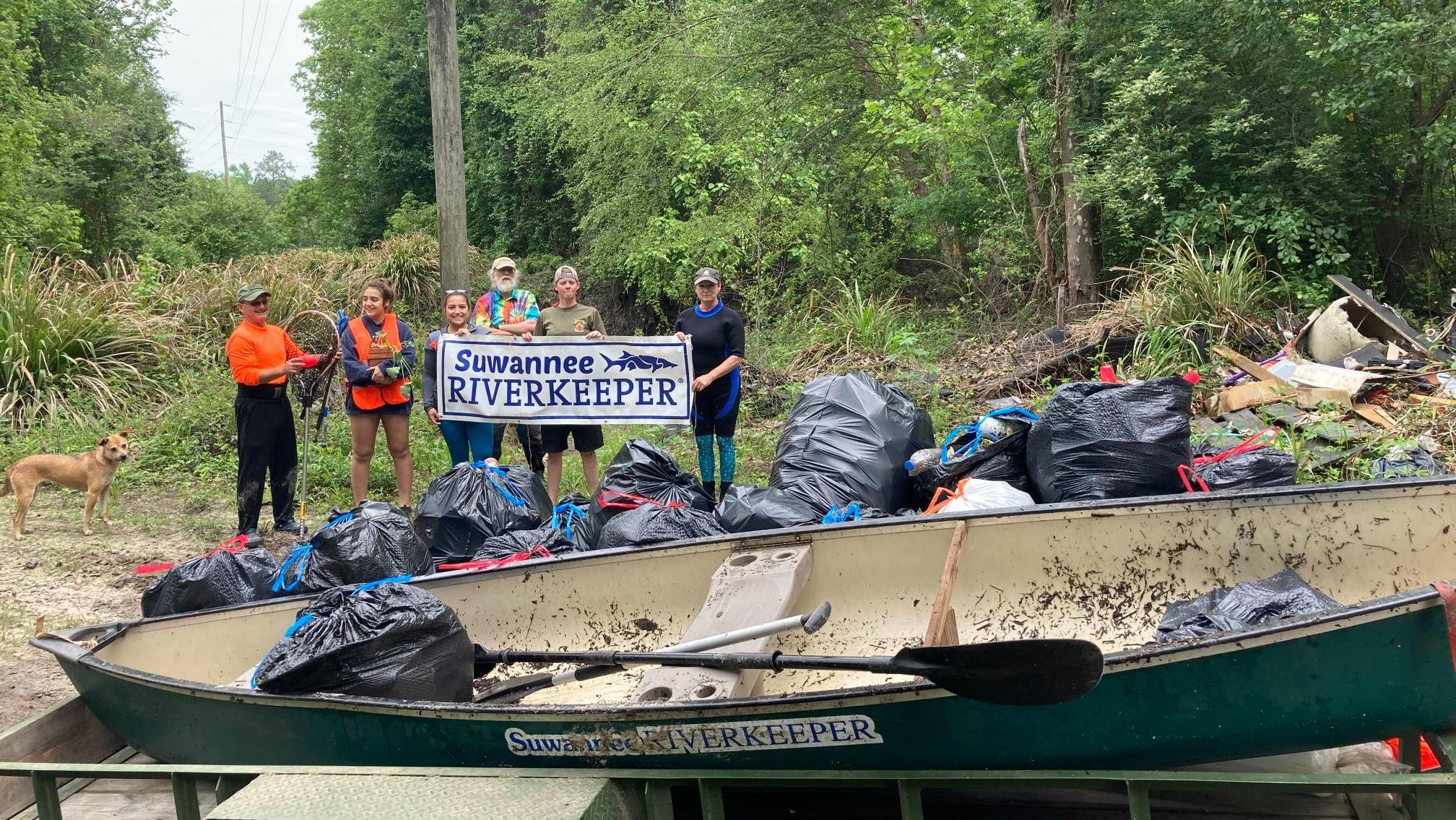 #GivingTuesday #GAGives support of WWALS - a special thanksgiving donation for ten years of advocacy
$50
raised by 1 people
$5,000 goal
Celebrating 10 years of advocacy in the Suwannee Basin.  Help WWALS to continue working for clean water.
Incorporated in June 8, 2012, WWALS Watershed Coalition, Inc. (WWALS) is ten years old. Since December 2016, Suwannee RIVERKEEPER® is a project and staff position at WWALS as the Member of Waterkeeper Alliance® for the Suwannee River Basin. 
Some of our projects: see more at www.wwals.net
Sewage Issues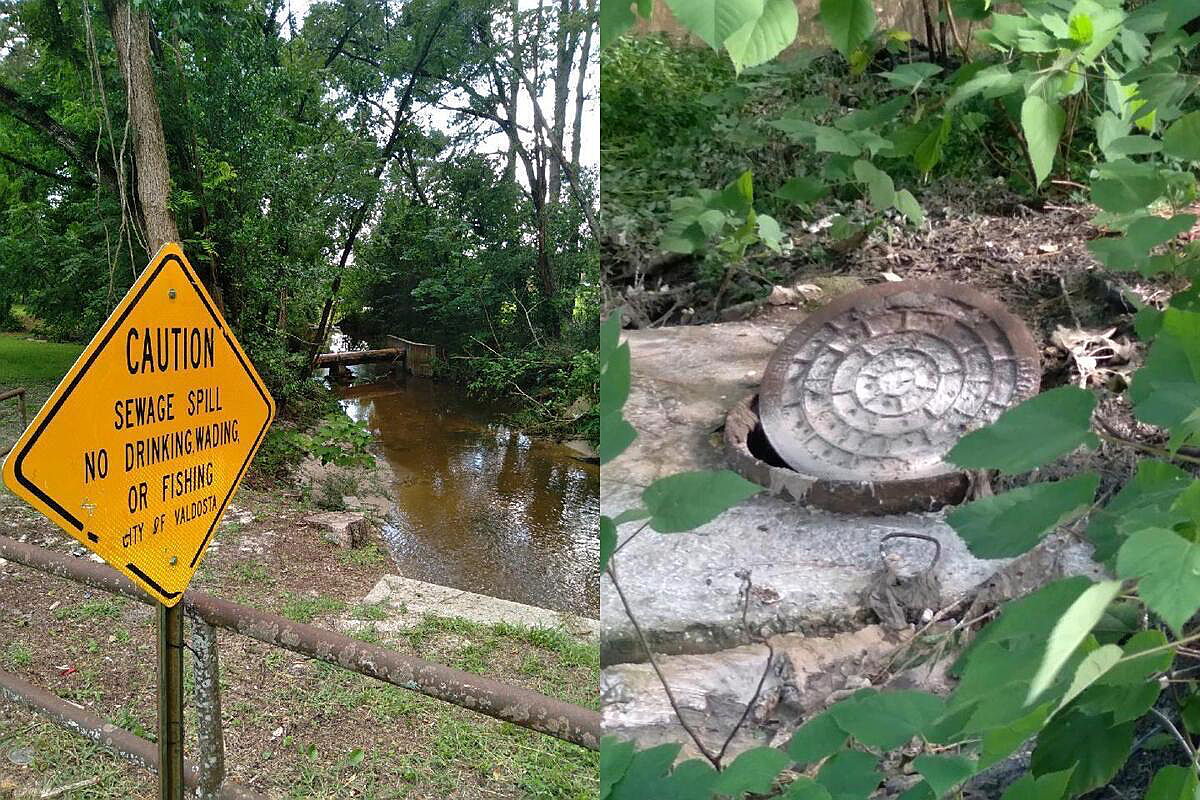 Caution, Sewage Spill, Manhole ajar, Wainwright Drive, Onemile Branch, Valdosta, GA, M, in No Valdosta City repair work at chronic sewage spill manhole, Wainwright Drive, Onemile Branch, by John S. Quarterman, 8 July 2021
Got the Georgia Environmental Protection Division (GA-EPD) to publish a Sewage Spills Report each business day, by organizing thirty organizations in Georgia and Florida to ask for it. WWALS publishes a daily comparison with the previous report to spot new spills, especially ones in the Suwannee River Basin.
Assisted the dozen downstream Florida counties and citizens of Valdosta and Lowndes and Brooks Counties, Georgia, in getting GA-EPD to issue a Consent Order with a fine on Valdosta for past sewage spills and numerous requirements that seem to be working to reduce further spills; plus Valdosta now tests forty river miles to the state line three times a week.
In conjunction with the Suwannee River Water Management District (SRWMD) determined that sewage from Quitman, Georgia, and manure runoff from Brooks County, Georgia, sometimes travels the entire 180 water miles down Okapilco Creek, the Withlacoochee River, and the Suwannee River to the Gulf of Mexico.
WWALS continues to follow unfixed sewage spill locations such as Wainwright Drive on One Mile Branch.
Water Quality Monitoring Program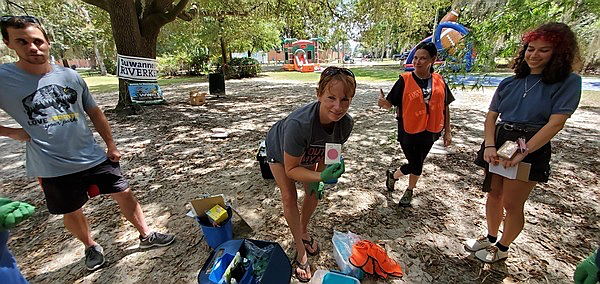 WWALS Testing Committee Chair Suzy Hall with a Petrifilm, Test kit, in Water Quality Testing Training @ SGRC, by John S. Quarterman, 14 September 2019, 
WWALS Volunteer(s) of the Year at 2020 Georgia DNR water quality testing Confluence Conference.
Trained dozens of water quality testers according to Georgia Adopt-A-Stream standards.
Weekly WWALS testing on four rivers in Georgia and Florida (Little, Withlacoochee, Alapaha, and Suwannee Rivers). Thanks to Georgia Power for grants three years running for testing equipment and supplies.
In conjunction with Our Santa Fe River (OSFR), got the Florida Department of Environmental Protection to publish online bacterial water quality test results, and to take monthly DNA marker and chemical tracer samples.
Used numerous sources of water quality data (WWALS, Valdosta, Lowndes County, FDEP, etc.) to determine that much recent contamination is coming from ruminants, almost certainly cattle manure runoff.
Helped convince cattle owners to implement Best Management Practices (BMPs) that are the most likely reason for great reduction in the severity of recent contamination episodes.
Water Trails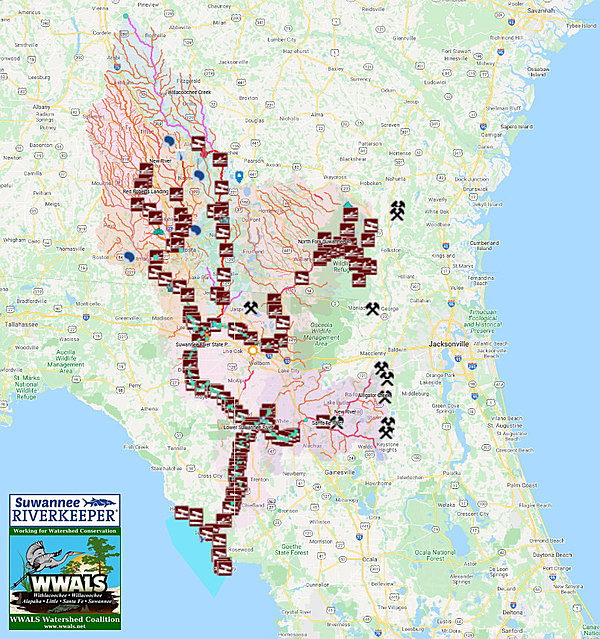 Suwannee River Basin, landings, in Suwannee Basin Maps, by John S. Quarterman, 13 November 2017,
Got GA-EPD to redesignate 24 miles of the Withlacoochee River and 80 miles of the Alapaha River from Fishing to Recreational for stricter contaminant standards, in the Triennial Review of Georgia Water Quality Standards.\
With a grant from the Georgia Department of Natural Resources (GA-DNR), printed 10,000 copies of z-fold brochures for each of the Alapaha River Water Trail (ARWT) and the Withlacoochee and Little River Water Trail (WLRWT), and distributed them to information centers on I-75 and I-95, to counties and cities, in parks, and at festivals. With the same grant, funded at-water informational signs along both water trails, and road signs for the WLRWT outside Lowndes County. WWALS previously paid for road signs for the ARWT.
Made online web pages and interactive maps for the WLRWT, ARWT, and the Suwannee River Water Trail (SRWT), including Florida's Suwannee River Wilderness Trail, plus the rest of the Suwannee River into Georgia and the entire Okefenokee Swamp.
Got a Troupville River Camp into the updated Valdosta-Lowndes County Parks and Recreation Authority (VLPRA) Master Plan, along with a network of upgraded river access points. Troupville River Camp is also the number one project of One Valdosta-Lowndes, a local stakeholder consortium for economic and well-being projects.
Trash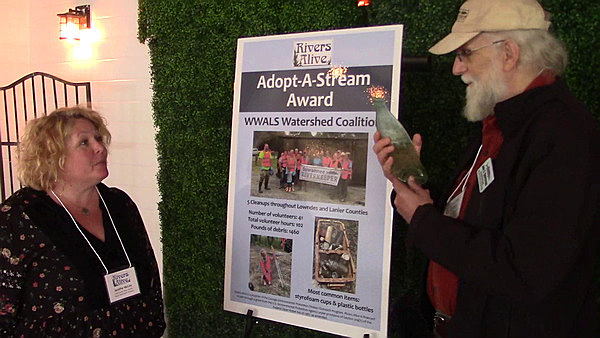 Stopping trash upstream –Suwannnee Riverkeeper John S. Quarterman, for WWALS, After GA-DNR Annual Rivers Alive Awards, by John S. Quarterman,  27 April 2022 
WWALS won the 2022 Adopt-A-Stream Award for cleanups, presented in the Rivers Alive Awards by the Georgia Department of Natural Resources.
Convinced the City of Valdosta to buy a first trash boom, to keep Sugar Creek trash from getting into the Withlacoochee River. 
Numerous cleanups on rivers, creeks, and ponds, and reported in GA-DNR Rivers Alive.
Got the owner of a parking lot with fast food outlets to change its contract with its contractor to keep it clean and keep trash out of Hightower Creek.
Convinced Lanier County to clean Pafford's Landing.