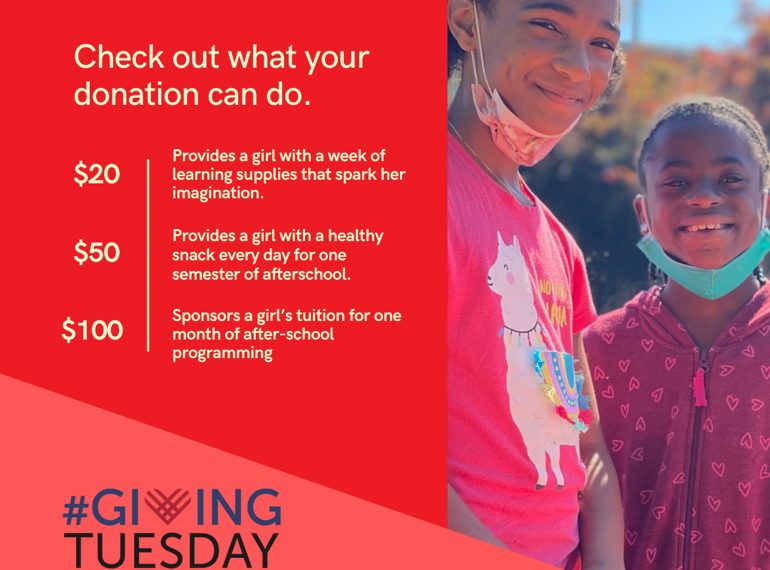 You have the power to help a girl grow up strong, smart, and bold and break the cycle of poverty.
$10,045
raised by 50 people
$10,000 goal
Empower a girl is investing time and resources to ensure girls have a bright future.  Your investment will help Her beat the odds, and help us create a world where all girls grow up safe, respected, and valued. Together, we can build a more equitable society that values the potential and promise of all girls.
By supporting Girls Inc. of Greater Atlanta, you are directly helping to empower girls. Imagine a first grader's sense of accomplishment when she builds a robot or a ninth grader's entire world opening up when she visits Savannah College of Art and Design. Your donation leaves a lasting impact and removes barriers for our girls living in extended stay hotels, allowing them to receive afterschool programming and regular hot meals. You are providing middle & high school girls access to enriching and motivational weekend programs, like G.L.O.W. (Girls Leading Our World). These are some of the very real experiences your support provides.
Girls Inc. of Greater Atlanta has been providing a safe space for girls in metro Atlanta for 47 years. Our comprehensive approach to whole girl development equips girls to navigate gender, economic, and social barriers and grow up healthy, educated, and independent. These positive outcomes are achieved through three core elements: people - trained staff and volunteers who build lasting, mentoring relationships; environment - girls-only, physically and emotionally safe, where there is a sisterhood of support, high expectations, and mutual respect; and programming - research-based, hands-on and minds-on, age-appropriate, meeting the needs of today's girls. Informed by girls and their families, we also advocate for legislation and policies to increase opportunities for all girls. Join us at girlsincatl.org.